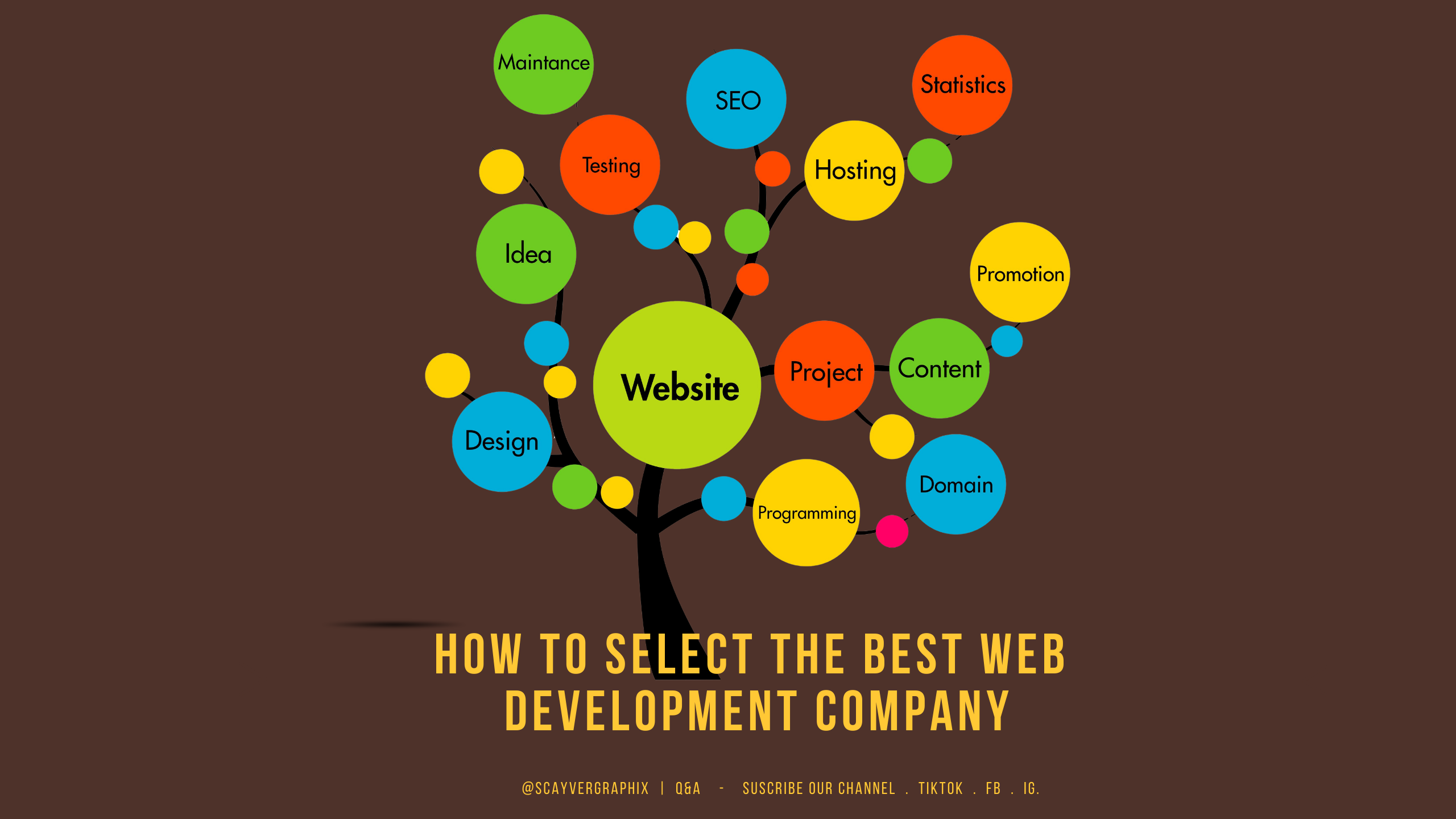 Your website serves as the gateway to your brand. It is how you present yourself to current and prospective clients. It can be both an interesting brochure and a treasure trove of information. Websites provide resources and thought leadership, engage customers, detail products and services, and demonstrate your organization's value.
Unless you're my great Aunt Salley, you've probably used the Internet to find products and services. It turns out that others do as well. As a result, it's critical that you build a strong, user-friendly online presence in order to engage and convert when people search for the products you offer.
If you want to create a comprehensive digital marketing strategy, you should work with a seasoned web development firm. Website design and development are critical components of a successful website, so working with an experienced website development partner is essential. But how do you go about finding a web development company? To begin, it is critical to comprehend what a web development company does.
What Is the Purpose of a Web Development Company?
If you're wondering how to find a good web development company, you should first understand what one does. In a nutshell, a web development firm handles everything required for a successful website build. While there is a lot that goes into creating a website, some agencies go above and beyond. As a result, you should consider what is important to you in a website launch and decide whether you will use a single comprehensive website development agency or a collection of resources to achieve your goal. The following are some of the areas in which a web development company can assist you.
Assisting with the Organization of Your Website
If you have a lot of information, you'll want to make sure your site is properly and intuitively structured for your users. A web development company can assist you in developing an Information Architecture to organize your content and structure your website so that it best meets the needs of your users. This will also give you an idea of the types of pages you'll need to create for your new website.
Creating and Designing Your Website
This is probably self-evident, but a web development company can build you a functional website. They will be able to guide you through the discovery, wireframe, and design processes, and then turn those designs into a working website.
You may be considering using a free service to assist you in creating a website. However, depending on the size of your organization and your needs, it is usually better to enlist the assistance of a seasoned web development firm. Make it yourself Website builders are excellent for small projects, but they lack the scalability and customization required for more advanced business functions. A well-thought-out, custom website will be simple to navigate for visitors, simple to update for your editors, and appealing to both users and search engines.
Hosting and maintenance services
You'll need to update your website on a regular basis, just like you'd take your car in for a tune-up. A web development company can handle hosting and maintenance so you don't have to worry about security and bug updates, monitoring website downtime/uptime, and troubleshooting.
A web development company can assist you in selecting the best hosting options to ensure that your site runs optimally and efficiently. They can also provide maintenance to identify broken links, identify security vulnerabilities, and address content issues that can be fixed before they negatively impact your search results rankings.
Dealing with SEO Optimization
A web development company can also help you ensure that your website is built on a solid SEO foundation. SEO is an abbreviation for search engine optimization, which is the process of making your website more appealing to search engines. A well-designed SEO-focused website can help you improve your search rankings for specific terms and phrases, as well as get your website in front of the right users.
How to Select a Web Development Firm
So, what factors should you consider when selecting a web development company? Here are a few key points to consider if you're not sure where to begin.
What Kind of Website Do You Require?
Many development firms, like other fields, specialize in a specific area. Choosing a web development company can be difficult, so consider the type of website you require first. Do you require a website capable of handling eCommerce transactions? Do you want to visit a website that features case studies? Do you require a website with a robust resource center? Are there any specific integrations you must consider with your new site?
Consider what you require from a website first, as this will help you determine what you require from a future partner.
What Kind of Assistance Do You Require?
When selecting a web development company, consider the level of support you'll require both before and after the launch. Do you require a website development firm that can simply set up the website? Or do you require a team to assist you in maintaining the website once it is completed? Determining what you require will help you to set yourself up for success throughout the project's duration.
Compatibility
Choosing the right web development company can be difficult, but you must consider your compatibility with a partner. You will have difficulty developing a website that meets your goals if you and your web development company are not on the same page. Always meet with the web development company ahead of time to ensure that you are on the same page regarding the partnership, scope, and methods of operation.
Thinking about these factors ahead of time will help you find the best web development company for your company's needs.
What Questions Should You Ask Potential Web Development Partners?
You should have a list of questions ready when looking for the best website development company for your company. You'll be able to learn more about your options this way. Asking the right questions can assist you in selecting the best web development company. Here are some key questions to ask when looking for a web development partner:
How much do you charge for your services?
Of course, you'll want to know how much the website will cost. However, many factors will influence how much you pay. Here are some questions you might ask a potential partner:
Is it a flat rate or a sliding scale?
What is your hourly rate?
Does the hourly rate vary depending on the resource used (design vs. web development)?
How will you charge us?
You should expect to pay an upfront fee for website development because they will most likely require an investment to get the project up and running.
You should also inquire about how they charge for ongoing support. Here are a few questions to consider:
Is it a monthly retainer or just time and materials for one-time requests?
Is there a contract length that must be met?
What are the contact details for support?
How much does ongoing hosting cost?
Make sure you get a detailed breakdown of how much each service will cost from your web development partner.
Do you have any references I could contact?
Anyone who is serious about getting your business should have a list of references you can call. Contact a few references to learn about their experiences. If they all had a good time, you will most likely have a good time as well. Having said that, conduct your own research. Check to see if the references agree with what you've read online in reviews and testimonials.
Do you have any work samples I could look at?
You should also request some previous web development project samples. Examine the sample sites to see if you like the designs. Check to see if those businesses have a strong digital presence. Are the websites simple to find and use? If this is the case, you're on the right track.
What is the level of experience on your development team?
Make certain to inquire about relevant experience as well. Is there a lot of experience on the team with software development or e-commerce websites? Can they create a website that is user-friendly on mobile devices? Inquire whether the team has any credentials or certifications to back up their experience. It also doesn't hurt to inquire about the background of the team working on your site.
What kind of web hosting do you use?
Make sure to inquire about web hosting. You must have a reliable hosting service for your website in order for traffic to scale with it as it grows. Always inquire about the hosting service, including how much it costs and how simple it is to change subscriptions.
What Is the Importance of Web Development in Business?
Web development is important for your company because it increases revenue. You can easily increase your online presence and drive stronger onsite user engagement if you work with a strong web development team. This helps to get your website in front of the right people and nurture them along the way to conversion.
Because your customers use the internet to find the products and services they require, you must get your website in front of those people. Web development can help you grow your business in a variety of ways, including:
Creating an easy-to-use website with a solid SEO framework can increase the number of prospects who visit and interact with your brand.
By targeting the right terms and phrases, you can generate the right type of traffic, which should increase your conversion rate.
A web development company can help you position your company as an authority in the field, assisting you in developing a strong brand identity.
A web development partner can keep your website up to date with the latest UX best practices, making it as easy for your visitors to find what they're looking for as possible.
You can also consult with a web development firm to make decisions about other aspects of your business. For example, you might be interested in a content management system, or CMS, which can assist you in keeping your information current. While you may be interested in one of the larger content management systems like Magento, Drupal, WordPress, or Joomla, other CMSs provide many of the same benefits at a lower cost and with greater scalability.
Wordpress does not require a license.
It has an easy-to-use editing interface that makes updating your website a breeze.
It has an extremely responsive user interface that makes it simple to use.
You can tailor the features to your specific requirements.
It includes a number of plug-ins and tools to assist you with your digital marketing and SEO needs.
It will grow in tandem with your website.
Regardless of the platform, find a good web development company to set you up with a CMS that will meet your business needs.
Why Is Scayver Graphix Digital the Best Web Development Company for Your Company?
While we don't claim to be the only great web developers out there, we have built hundreds of websites and stand behind our work. Among the many reasons why we would make an excellent partner are:
Transparency: In everything we do, we are open, honest, and transparent. We can tailor our services to your specific requirements, and you will never be charged for services that you do not require.
Scalability: We recognize that your requirements may change over time. As a result, we can always scale our services as required.
Experience: We have unrivaled experience in the field, as evidenced by credentials, certifications, and references that we are happy to share with you.
Comprehensive Service: We strive to meet all of your requirements. We can assist you with digital marketing, project management, search engine optimization, and other related services.
When it comes to selecting the best web development solution, there is a lot to think about. We'd love to hear from you if you're looking for an experienced partner to help you elevate your online presence and generate more traffic. To begin a conversation, please contact us for a free consultation.